Steedman & Gooding East Gippsland Forest Assessment (2006).
Background
Also see:
Industry groups position
Environment groups position
SPZ swaps and SMZ relaxation.
On 27 Feb 2006 a State Government press release announced that Pete Steedman and Graeme Gooding would oversee a consultation process with logging industry and community groups to assess options for the future of the East Gippsland logging industry.
This Steedman and Gooding process came about due to the ongoing conflict over logging high conservation valued forests in East Gippsland over the past three decades.
See background to East Gippsland forest conflict.
The Steedman and Gooding report was released in March 2007 and forms the basis for the State Governments 2006 State election commitment to protect 41,000 ha of forests in East Gippsland.
Download Steedman and Gooding final report (pdf).
The project was called the East Gippsland Forest Industry Project (EGFIP) . In April the Terms of Reference were made available for which the key issues were:
1. Building on outputs from existing Government initiatives, consult with timber industry and associated community stakeholders groups, including those in the East Gippsland region, to determine how industry will address old growth issues in the region and work towards internationally recognised certification of forestry activities on public land.

2. To participate in the verification of timber resource availability in the region.

3. To develop options for the future of the timber industry in East Gippsland for consideration by the Government no later than 1 September 2006.
The process identified options 1 through to 5 that included status quo logging (option 1) through to a 70% reduction in logging rates (option 5). (See pages 27,28)
Ultimately the State Government sought a compromise solution [media ref from gook webpage] and elements of options 3 were selected by the Bracks Government. Under option 3 icon and old growth areas were to be protected in exchange for more intensive management of regrowth forests to improve sawlog yields.
Map of ALP 2006 election committments. (Note that the State government has since announced that it will make some changes to the final reserve system for East Gippsland.)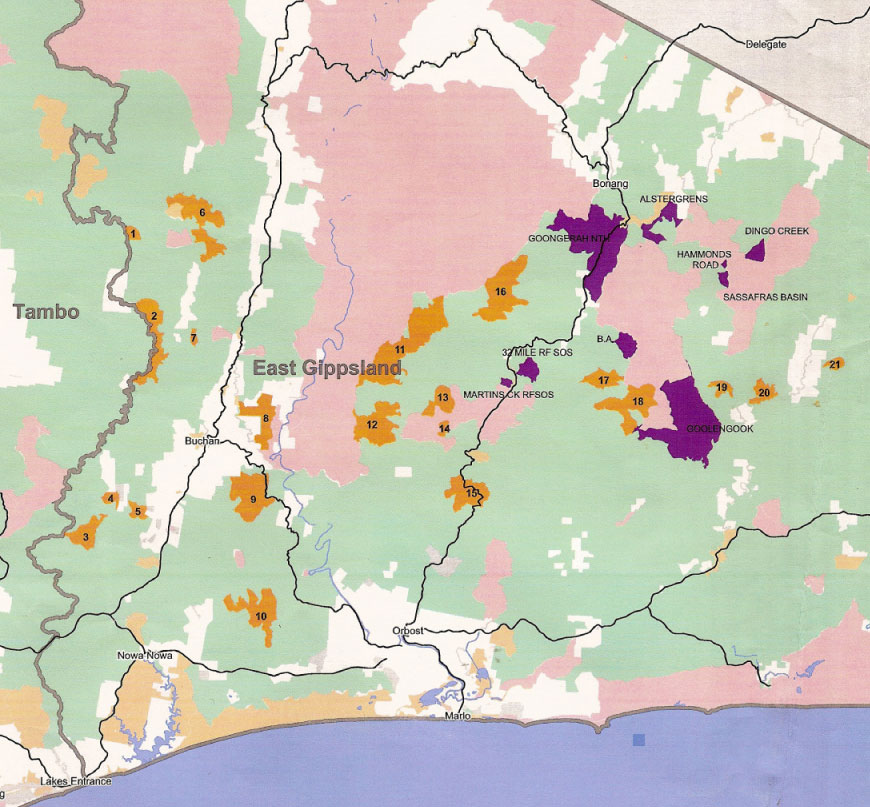 Click map to enlarge. Icon areas (purple on the map) were in general places that had a history of conflict with the logging industry over the preservation of nature conservation values. They included contentious locations such as Goolengook Block and Dingo creek. Old growth areas (orange on map ) were defined as large blocks of forest with minimal of no previous disturbance.
Steedman and Gooding met with industry and environment groups including the Victorian Rainforest Network. (See EGFIP May 2006 progress report regarding Stakeholder Engagement).
Industry groups position
Industry groups agreed that old growth logging was contentious, accepted the Bracks Government wanted something done about it and agreed to work within a process to find a solution as long as there as no net loss of timber resources. [pg 11 Final Report Section 3 Background]
Of critical concern to the industry and the local community was that clearfell logging native forest for woodchips(70% of all trees cut down) and sawlogs (30% of all trees cut down) was a major source of regional employment for the community.
The currently available timber (sawlogs and pulpwood from public native forests) in the East Gippsland Forest Management Area (FMA) generates direct employment of around 525 people in harvesting and processing8, of whom about 89% work in the FMA. The industry currently directly and indirectly supports around 1,228 full-time jobs. This employment currently represents around 50% of all full-time jobs in the region. (pg 14)

8 Based on current available areas and a harvest level of 130,000 m3 of sawlog per annum. Currently: the industry is cutting below this level, due to the cyclical market downturn. Current employment is therefore actually 491 jobs (34 jobs below this figure).
Environment groups position
Also see background to East Gippsland forest conflict.
Victorian Rainforest Network
VRN successfully put the case for more rainforest protection, in particular National RSOS throughout East Gippsland. (These areas also an overlap of both rainforest and old growth values.)

VRN argued that protecting these areas would not impact on available sawlog resources as the Code of Forest Practices (a process VRN has also contributed to link?) was going to make logging National RSOS unlawful in any event. This includes the controversial Dingo Creek, Cobb Hill and Martins creek areas.
VRN also successfully nominated the Sassafras basin, a State RSOS for protection [link to sassafras basin webpage].
Note: VRN was not engaged in a campaign to encourage a blanket ban on all logging of native forests in East Gippsland.
Peak Environment Groups
Steedman and Gooding consultation with peak environment groups included , The Wilderness Society and Australian Conservation Foundation(ACF). These groups for the past two decades have campaigned to have native forest logging banned in Australia (with historically little success).
In July 2006 a report written by the Wilderness Society and ACF on behalf of the Forest Alliance was submitted to the Steedman and Gooding process. In this report the Wilderness Society and ACF provided a proposed reserve system map for East Gippsland shown below.
Wilderness Society and ACF 2006 proposed reserve system map for East Gippsland.
Click map to enlarge: Blue areas are the additional reserves sought by the Wilderness Society and ACF (on behalf of the Forest Alliance). Yellow is private land. Grey is a combination of formal(legislated) and informal(special protection zones) reserves.
Steedman and Gooding analysed the TWS and ACF reserve agenda proposal as option 5. In the analysis for option 5, it was found that the East Gippsland native forest sawlog supply would be reduced by 70% and that this would result in about 1000 direct and indirect job losses associated with native forest logging industry in the regional community.
(See pages 7,28).
Steedman and Gooding detailed mapping analysis of option 5.
Click map to enlarge. Pink areas under option 5 on this map are the locations the Wilderness Society and ACF would still permit logging. All green and red areas would be permanent reserves.
Overall the TWS and ACF reserve agenda request was consistent with these conservation groups long held no native forest logging policies and objectives. These policies rely on the argument that native forest logging can end in favour of wood supplied from existing plantations.
However the Steedman and Gooding report pointed out that there are no established hardwood plantation in East Gippsland and serious reasons why future plantation establishment would be restricted. [page 23]. The Forest Alliance appears to have not responded to any of the arguments Steedman report put forward that reject the plantations substitution argument for East Gippsland[see page 23, 35].
SPZ swaps and SMZ relaxation.
A Special Protection Zone(SPZ) is not a legally gazetted reserves under an Act of parliament . Hence an SPZ can be revoked and made available for logging at any time by the State government without the need to go to through parliament.

A Special Management Zone(SMZ) is an area with special values that gets extra consideration and restrictions before logging is permitted. Usually an SMZ plan is prepared before logging is permitted. On occasion an SMZ plan may prohibit logging if the values have been assessed to be high. For example Sassafras basin SMZ example.
It is often argued by some environment groups that the inclusion of Special Protection Zone(SPZ) into the formal reserve system is not a win for the environment as logging was not going to occur anyway. This attitude relies on ignorance regarding the ongoing lobby efforts of the timber industry to get access to these areas.
In 2006 elements of options 3A and 3B were chosen by the Bracks government which took a total off 14,200 cubic meters of sawlogs from the overall sustainable yield of 130,000 cubic meters (refer Section 5.3 dot point 4 page 14). That included 7900 cubic metes to protect old growth areas and another 6300 cubic meters to protect icon areas.
In an effort to replace some of this lost sawlog supply Steedman and Gooding proposed that SPZ areas could be swapped and suggested that logging restrictions in SMZ's could be relaxed.
Actions to address reduced timber availability. These include increased thinning of regrowth, plus adjustments to land management zones to increase availability of timber resources in non- old-growth forest areas. Example 1: Some SPZs were specifically reserved for old-growth forest, whereas new more detailed mapping indicates it is not old-growth forest. Example 2: Special Management Zones currently permit restricted harvesting and those restrictions could be relaxed, given increased old-growth forest reservations. Areas possibly could remain SMZ with changed plans to permit say 90 to 80% of the net merchantable areas to be harvested. See page 28
SPZ swaps map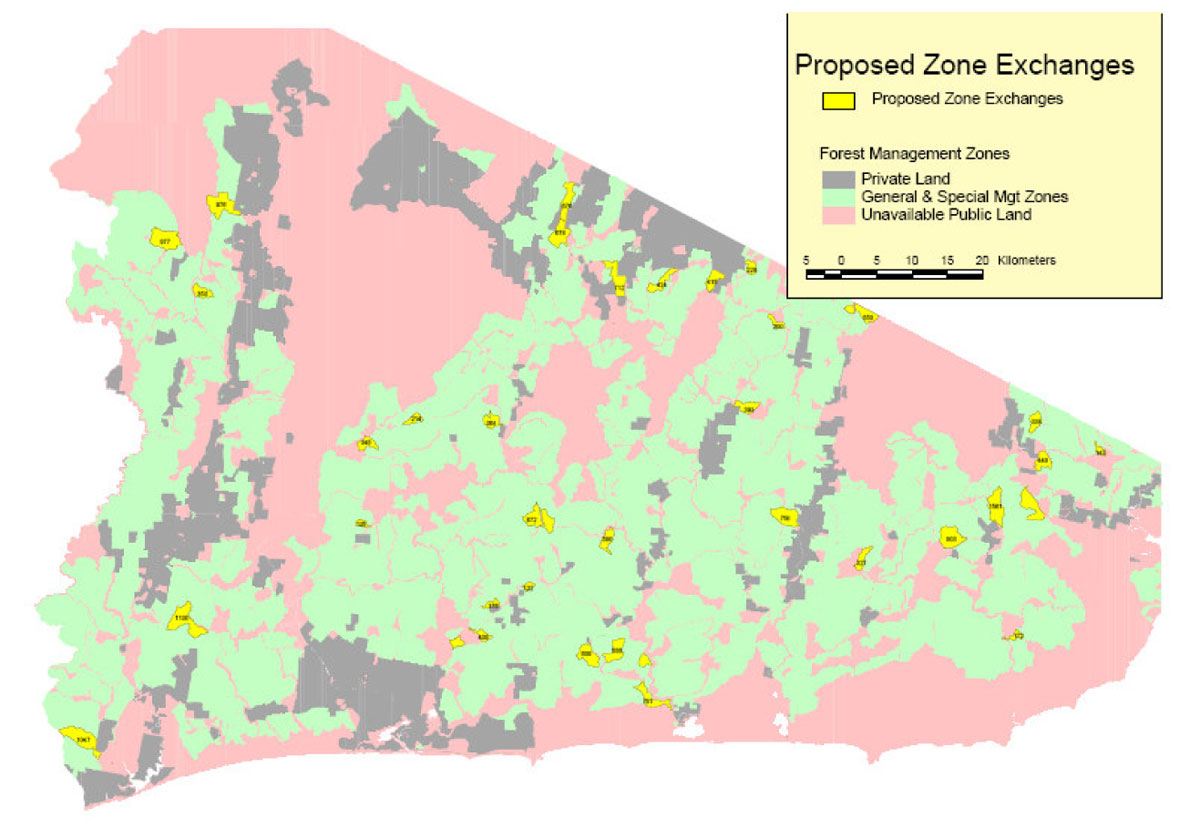 Click map to enlarge. This map shows the locaiton of SPZ that the Steedman and Gooding process identified for making avaliable for logging.
Industry groups strongly advocated for exchanging of SPZ and relaxing the logging restriction in SMZ as a way to find more timber resources to exchange for areas conservationists want protected. The swapping of SPZ for logging was something the State Government had already flagged in the past in order to protect Goolengook. Logging industry groups have argued that SPZ swaps are in spirit with the East Gippsland RFA. In the past an SPZ at Hensleigh creek in East Gippsland had been rezoned for logging.
During the 2006 State election, the former Bracks Government ruled out the controversial idea of swapping SPZ forests to protect other areas.
However the State Government has not ruled out the possibility of SPZ swaps in the future. When the Government announced its East Gippsland protection plans in 2006, it left out SPZ areas with known high conservation values despite deciding to protecting areas on either side. Such a decision is an acknowledgment to the lobbying power and attitude taken by industry groups towards SPZ's.
[See map at Yalmy case study]]
The long term future of these informal reserve will continue to be subject to ongoing political contest as the logging industry clearly see these areas as potential future wood source.