East Errinundra (Site: 81)
Site of National Significance
Cool Temperate Rainforest /Mixed
Largest Stand of Cool Temperate Rainforest in Victoria.
Dingo Creek areas has been logged in North west end in last few years. Only two logging coupes left. One coupe 892-522-0009(37 ha) is expected to be saved by the Code review whilst the other logging coupe 892/522/0006 (20 ha) is still threatened.
Public land management zones within RSOS

Approximate total area: 380ha

%

ha

F&F reserves

0%

0

SPZ

42%

159.6

SMZ

58%

220.4

GMZ

0

0

Private

0

0

Area logged

0.24

91.2

There is an imminent logging threat for this site.
GoogleEarth images
The Rainforest EVC (Ecological Vegetation Class) and RSOS boundaries have been overlayed onto Google Earth imagery to produce images that give a three dimensional perspective of the landscape where rainforest communities exist in East Gippsland. (Note: Rainforest EVC colour code is not consistent for all images.)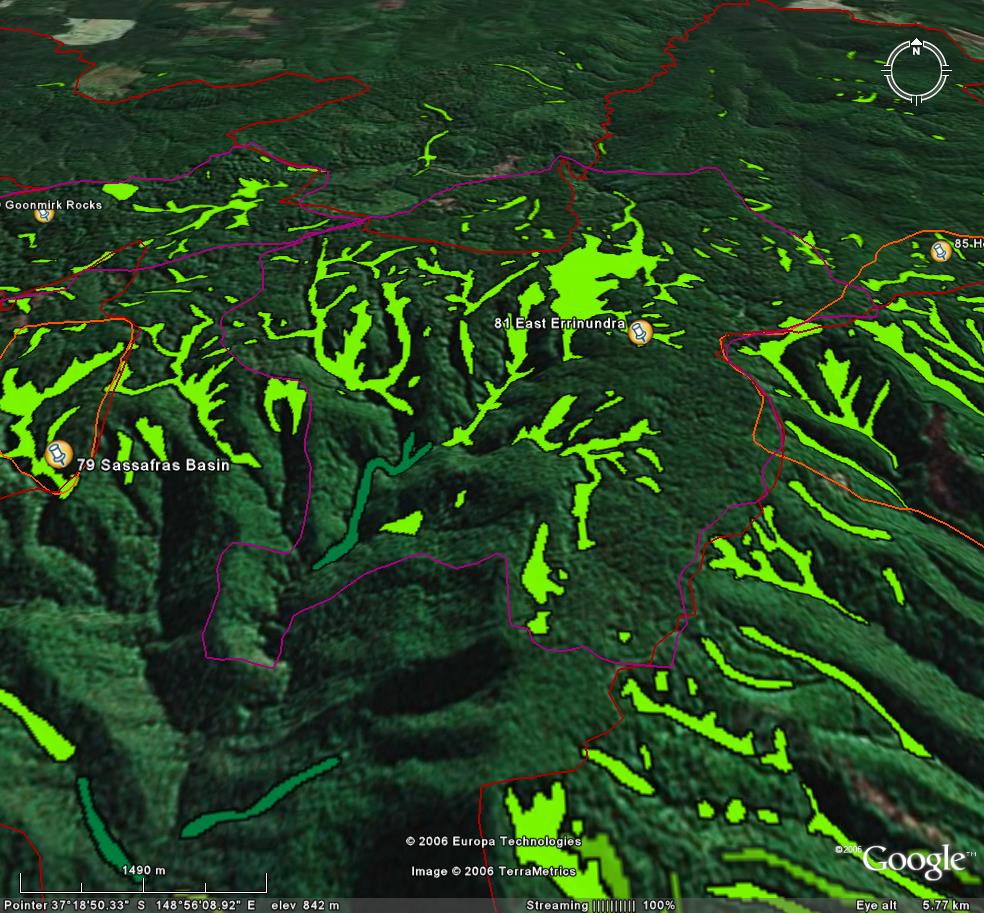 Image description: The large green areas in the middle of this site represent the largest stand of Cool Temperate rainforest in Victoria. Warm temperate rainforest exists is in the deep vally at the southern end of this site (see dark green). Most of this site is within the Errinundra National Park (see red line) except for an area to the north west.