Martins Creek (Site: 57)
Site of National Significance
Warm Temperate Rainforest
Best Concentration of Warm Temperate Rainforest in East Gippsland foothills.
Much of this site protected in the Martins Creek Flora Reserve during 1997 East Gippsland RFA, however many significant rainforest stands in the northern section of this site are still State Forest.
Public land management zones within RSOS

Approximate total area: 5680ha

%

ha

F&F reserves

67%

3805.6

SPZ

0%

0

SMZ

8%

454.4

GMZ

0.25

1420

Private

0

Area logged

0.075

426
GoogleEarth images
The Rainforest EVC (Ecological Vegetation Class) and RSOS boundaries have been overlayed onto Google Earth imagery to produce images that give a three dimensional perspective of the landscape where rainforest communities exist in East Gippsland. (Note: Rainforest EVC colour code is not consistent for all images.)

Image description: Extensive Stands of Warm Temperate Rainforest.
Proposed Code Review subcatchment buffer area
This DSE draft internal working map was provided to VRN to show the approximate sub-catchment buffer area in purple.
Note: only core areas N1 (as determined by DSE ) are shown on this map and do not necessarily represent the total area covered by the Martins Creek RSOS.
Martins Creek Rainforest Photo's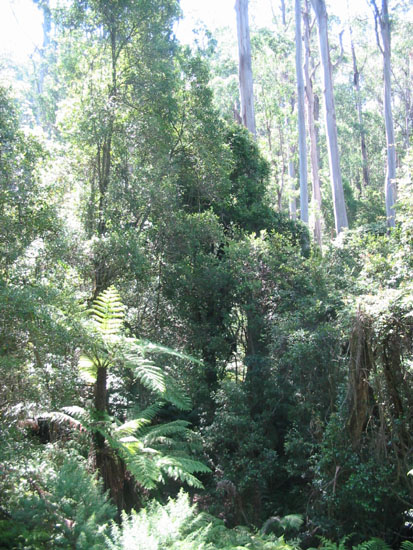 This photo above and below shows the contrast between warm temperate rainforest growing along Martins creek against the typical eucalypt forest growing in the background.