Victorian Governments position on logging East Gippsland Rainforest Sites of National Significance.
The powerful owl story continues..............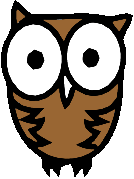 .... Victorian government will allow clearfell logging to proceed within Rainforest Sites of National Significance despite the draft Code review saying these areas should be protected.
Recent Media
The Victorian Rainforest Network put out a press relase in March 2006 supporting the draft Code review proposal to increase the protection levels. This press relase was reprinted in full in the Snow River Mail.
In July 2006 the Victorian government responded by declaring a safety zone around some of these coupes so logging can proceed.